Inspiratie beperkt zich niet alleen tot Nederland, we brengen ook nieuws, voorbeelden en ideeen uit de rest van de wereld over samen zorgen, manieren van wonen en zorgen en innovaties.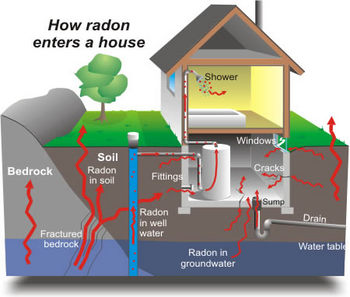 Radon
Radon is not something I think about; in fact when we moved into our lovely
money pit
, we had it tested for Radon—and thought nothing of it again when the tests results showed it wasn't an issue. Today's program brought radon back on my radar screen.
Handyman Bob
began with statistics like those
offered by The EPA:
Radon is the number one cause of lung cancer among non-smokers, according to EPA estimates. Overall, radon is the second leading cause of lung cancer. Radon is responsible for about 21,000 lung cancer deaths every year. About 2,900 of these deaths occur among people who have never smoked.
Bob's delivery is kindly yet authoritative, he's local, cares about the community and it's palpable in every show. This edition took on a tone of warning and the statistics grabbed my attention and got me thinking about how this relates to aging in place.
Aging in Place with Radon
Aging-in-place professionals talk of home safety in terms of the built environment and support services, seldom do I hear any one mention radon. January is
National Radon Action Month
and this is as important as any universal design kitchen or 24/hr alert button worn around the neck.
Get your home checked—period.
Proactive Steps
1. The EPA provides maps of Radon Zones around the country—check it to see if your aging in place home is in a hot zone by clicking the link here:
Radon Zone Map
We lock our homes at night, use smoke detectors, remodel for bathroom safety, leave on nightlights, eat right, don't smoke, visit the doctor and countless other measures to ensure successful aging in place in the homes we love—yet a silent killer could end it all…
Be wise, be diligent–get your home checked; I'm in favor of your aging in place for many years to come and I know The ol' Handyman is too.
Read more
Doe mee met de Inspiratiedag Samen Zorgen op donderdag 7 maart in Theater De Berenkuil in Utrecht.
Schrijf u hier in
.